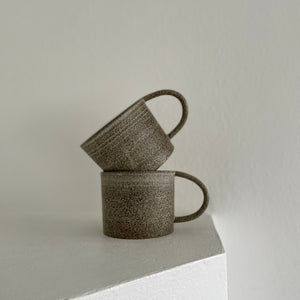 Mug w/ Large Handle Wide Grey ( 6001)
Handmade from grey stoneware clay, glazed with a white glaze. Approximately 8 cm tall X 10 cm wide

The product may be put in the dishwasher, but to prolong the life of your ceramics we recommend washing by hand.

You must let boiling water settle (stop bubbling) before pouring it into a tableware item. Therefore avoid using boiling water directly from a Quooker or a kettle.

If the item is cold it is suggested to pre-heat it with hot tap water. Pouring boiling water directly into a cool handmade cup, bowl or mug may cause the item/ glaze to crack.

The cracks will not affect the lifecycle of the product and the glaze will not fall off.